Shrines & Places
Kariye Camii (Church of the Savior)
1316-21, Constantinople (Istanbul, Turkey)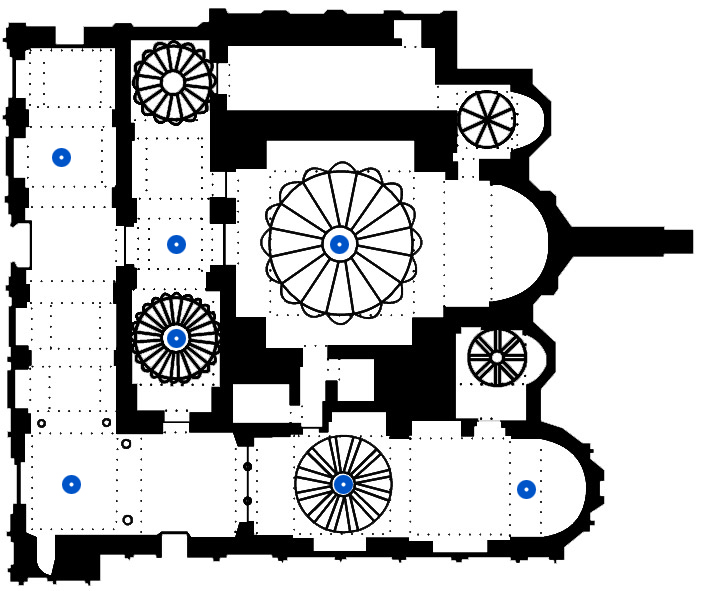 Excavations in the sanctuary of the Kariye Camii, mid-1950s. Photo copyright E.J.W. Hawkins.
Located at the outer limits of Byzantine Constantinople (modern-day Istanbul) near the great land walls of Emperor Theodosius II, the church and monastery "of the Chora" (literally: "in the fields" or "in the countryside") is one of the most impressive architectural monuments to survive from the Late Byzantine period. In addition to its architectural significance, the Kariye Camii also preserves one of the finest and most extensive cycles of Later Byzantine mosaic and fresco decoration.
According to the 14th-century historian Nicephoros Gregoras, a certain Theodore, relative of Empress Theodora (wife of Justinian the Great), founded the first church of the Chora, but only traces of its substructures survive. Several hundred years later, namely between 1077–1081, a new church was built on the site, commissioned by Maria Dukaina, the mother-in-law of Emperor Alexios I Komnenos. This church was rebuilt only a few decades later—likely after a partial collapse resulting from an earthquake—under the Sebastokrator (crown prince) Isaak Komnenos in the 1120s. While using some of the walls of the earlier church, the Eastern apse was completely rebuilt, the four-column support removed and the dome enlarged over a wider naos, the church's central space of worship.
Church and monastery suffered great damage and neglect during the Latin Occupation of Constantinople (1204–61), but were rebuilt and redecorated between 1316 and 1321 by the scholar, poet, and Grand Logothete Theodore Metochites, one of the richest and most influential men in the Late Byzantine Empire. In one of his poems, Theodore describes that the monastery was dedicated to the Virgin Mary, the monastery's church, however, was dedicated to Christ, as suggested by a mosaic above the entrance into the naos, which shows Metochites presenting a model of the church to Christ.
Excavations conducted in 1957–58 revealed the foundations of the church's altar and altar ciborium as well as a rectangular marble loculus, or small cavity, just east of it, in which a lead reliquary had been deposited. An examination of the reliquary's content revealed human vertebrae and bone fragments. It is highly likely that the reliquary was deposited when the church was rededicated after the church's renovation under Theodore Metochites in the early 14th century, thus confirming the practice of relic deposits underneath church altars in Late Byzantine Constantinople.

Exhibition Objects Associated with Constantinople
Reliquary of St. Zacharias
Reliquary Cross
The Trier Ivory
Reliquary of St. Marina
Reliquary Triptych from St. Maria ad Gradus