Beyond the Middle Ages
The anxiety over the material aspects of relics came to a head during the Protestant Reformation. Some reformers, like Erasmus of Rotterdam, argued for a more tempered view, in which the remains of holy men and women were mementos of a life well lived, rather than magical talismans. Others, like John Calvin, wanted to abolish the cult of the saints altogether, associating dazzling reliquaries with the deceptive ways of the Catholic Church.
Nuremberg Relic-Book Relic-books were powerful aids to devotion, offering the believer a carefully orchestrated program for venerating the saints through text and image.
Bamberg Relic-Book This relic-book shows the various relics housed in Bamberg cathedral arranged into groups.
Broadside of Relics from Kloster Andechs Printed from four separate woodblocks on a single sheet of paper, this relic-broadside shows the relics once owned by the Benedictine monastery at Andechs.
Print of the Relics of the Holy Roman Empire This single-leaf woodcut illustrating the relics of the Holy Roman Empire, first printed around 1480 and then again in 1496, came in a hand-colored version.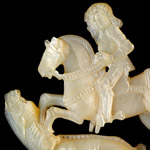 Appliqué with Saint George Slaying the Dragon This fragment is all that remains of a circular relief that was once attached to a pax, a tablet with a sacred image kissed by the celebrant and the faithful during Mass.
"Griffin's Claw" of St. Cuthbert Although claimed to be the claw of a griffin, a mythical half-eagle half-lion, this object is the horn of an Alpine goat, the ibex.
Box for a French Pennant Taken at the Battle of Pavia The inscription declares that this box held a French pennant taken on 25 February 1525 (actually 24 February), at the Battle of Pavia in Italy, when the French army under Francis I was defeated by that of Emperor Charles V.
Eight Plaques from the Saint Servatius Bust at St. Servatius in Maastricht These eight silver gilt relief plaques, preserved at the Museum für Kunst und Gewerbe in Hamburg since 1885, probably adorned the—presumably polygonal—plinth of Duke Henry's reliquary bust.
Goldsmith's Model for a Reliquary in the Shape of the St. Andrew's Cross This reliquary originally belonged to the Archbishop of Magdeburg and Mainz, Cardinal Albrecht of Brandenburg (1490–1545) and formed part of the so-called "Hallesche Heiltum", a treasure of precious relics.