Saints & Martyrs
The cult of the saints, as formulated in late Antiquity and the Middle Ages, depended in large part on the production and dissemination of hagiographic texts. Such texts provided evidence that the hero or heroine had lived a virtuous life, or in the case of sinners like Mary Magdalene, that he or she had undergone a period of penance appropriate to his or her transgression.
Saint Amandus Amandus was a monk in Flanders and Northern France who preached throughout the region and founded several monasteries and nunneries, including ones in Ghent and Elnon.
Saint Anastasios the Persian Anastasios was a military commander in Asia Minor and Syria who was tortured and executed in Caesarea.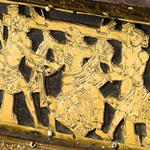 Saint Blaise Blaise was a bishop in Sebaste, Armenia. While in hiding during his persecution, he is said to have healed sick and wounded animals.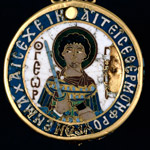 Saint Demetrios Demetrios' relics are said to have oozed myrrh, which was then collected by pilgrims.
Saint Eustace According to legend, the Roman general Placidus was out hunting a stag when an image of Jesus on the cross appeared between the animal's antlers, inspiring him to convert to Christianity and adopt the name Eustace.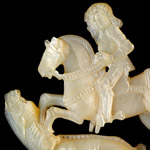 Saint George George is popular for having slain a dragon and requesting that, in lieu of thanks, the villagers he saved convert to Christianity.
Saint Helena Helena is best known for her pilgrimages to the Holy Land, during which she allegedly found the True Cross.
Saint John the Baptist John baptized Jesus in the River Jordan and was among the first to recognize his cousin as the Messiah.
Saint Martial Martial was a bishop under Decius who was sent to Limoges in Gaul to preach the Gospel.
Saint Mary Magdalene According to the New Testament, the resurrected Christ appeared to Mary Magdalene on Easter morning.
Saint Menas Menas was an Egyptian and a soldier in the Roman army who deserted to practice Christianity.
Saint Nicholas Holy oil said to have healing properties seeped from Nicholas' remains and drew many medieval pilgrims to his shrine at Bari, Italy.
Saint Paul While travelling to Damascus, Paul had a vision of Christ and was temporarily blinded. When he recovered his sight, he converted to Christianity and began missionary activity throughout the Mediterranean.
Saint Peter According to the Gospel, a fisherman known as Simon was called to follow Jesus, who gave him the name Peter and declared him "The rock upon which I will found my Church."
Saint Sergios Sergios and his friend Saint Bakchos were buried and later enshrined in Resafa (in modern-day Syria), which for a time was renamed Sergiopolis and was a popular pilgrimage site.
Saint Thomas Becket Thomas was murdered by four knights of King Henry II inside Canterbury Cathedral, making him an instant martyr.
Saint Valerie According to legend, Valerie was converted to Christianity by Saint Martial of Limoges and was later beheaded for refusing to marry Duke Steven.
Saint Vincent of Saragossa Vincent served as deacon under Bishop Valerius of Saragossa and was martyred under Emperor Diocletian.
Virgin Mary At the Annunciation, the Archangel Gabriel appeared to Mary to announce that she would give birth to the Son of God.